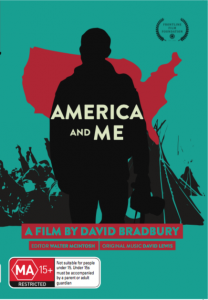 A filmmaker's critique of the American penchant for Empire.
Australian filmmaker David Bradbury has been coming and going to the United States for the last forty years. A one-man band political activist who always travels with his camera, the twice Academy Award nominated Bradbury was easily able to slip into gear and start filming in eight US cities in the three month lead up to the shock election of Donald Trump, 2016. Bradbury was filming the native American Indian protest at Standing Rock when America woke to the news.
America once was Great. Due largely to the hard work, innovation of its people…and exploiting the resources and labour of others for its greater gain. America and Me chronicles how the hawks have come home to roost in the nest of America itself, 40 years after Ronald Reagan championed the economic theories of Milton Friedman and his infamous Chicago Boys.
America and Me interviews veterans of America's failed wars to maintain Empire, gets down in the gutter with the homeless to find out what life is like on the streets, speaks to a nun who was violated by the military junta in Guatemala under the directions of a CIA operative, goes to the US/ Mexican border where Trump plans to build the Wall, exposes the deadly connection between CIA HQ Langley, Virginia to CIA spy base Pine Gap in Australia, responsible for the death of hundreds of children and adults from drone attacks….and ends up at Standing Rock where private security guards turned dogs onto non violent protestors and sprayed mace at point blank range.
Bradbury uses telling moments from his earlier films shot on the edge of the American Colossus – Nicaragua No Pasaran, Chile Hasta Cuando? (Pinochet's dictatorship), Frontline (about the Vietnam war) and South of the Border (the New Song movement and radical politics versus dictatorship in Central America), to give context to his critique of the American penchant for Empire.
Editor Walter Mcintosh
Original Music David Lewis
Directed And Produced Camera/ Sound David Bradbury
Producer Treena Lenthall