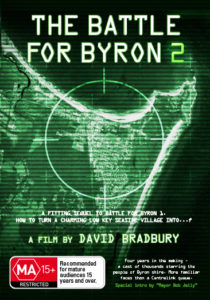 From the festive New Years Evening in Byron to the controversial rock wall on millionaires' row at Belongil beach.
The weird and colourful…the everyday stuff that makes Byron shire unique. From the vibrant – the first Women's Festival in Mullum; the exotic – the Mayan equinox rituals at Island Quarry. The outrageously funny – Mandy Nolan (when she only had two kids…). The grieving of a community – Nick Shand's funeral. The annual grudge cricket match between Main Arm and The Echo. The Green BandAid Concert with special guests Paul Kelly, Kev Carmody, Peter Garrett and Yothu Yindi.
Councillor Ross Tucker reveals all on Stellavision. The important signing of the Agreement with the Arakwal sisters. The Battle for Byron 2 has it all and more!
Directed and filmed by David Bradbury (with the help of Byron's film and music community), Battle for Byron 2 is more than politics, more than just another Development Blockbuster! See the conflict, the aspirations and the vision to take us into the 21st century. Know thy council and be informed!